Telehealth Video Consultation
Understand your injury and receive personalised education, advice and a rehabilitation program – with the purpose of helping you to resolve your injury. 
At Flex Sports Physiotherapy and Clinical Pilates we help busy professionals, athletes and everyone in between get better, fast. We always utilise the best techniques and technology to ensure a speedy recovery.
Telehealth Video Consultations – Melbourne City Centre
The team at Flex Sports Physiotherapy want to ensure that we are still available to you, even if you can't be here in person for a consultation. We have developed great options for you to connect with your practitioner online via video consultation, to ensure your care remains a top priority no matter where you are.
This service is available for Physiotherapy and Clinical Exercise sessions.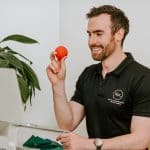 Experience and Expertise
Our practitioners are highly skilled with exceptional experience in diagnosing and managing injuries. We deliver evidence based treatment and continue to focus on our own professional development to ensure we provide you with the best possible care.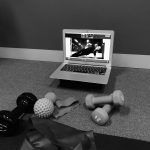 Knowledge is Power
We focus on education, with clear explanation of your injury, why you have it, and and how we will help you resolve it. We want to give you the tools to help yourself on the path to your recovery and prevent recurrence of your injury.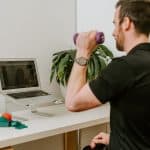 We Focus on the Source of your Pain, Not the Symptoms
We take a holistic approach to treatment. Instead of only treating your symptoms for temporary pain relief, we focus on identifying the underlying cause of your problem and aim to influence those areas that may be contributing, to achieve longer lasting results and resolution of your injury.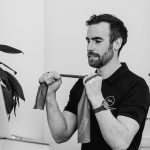 We Focus on Your Recovery
We are highly experienced and provide a diagnosis, education, exercise prescription, and a clear management plan to achieve resolution of your injury as quickly as possible.
Your Telehealth Consultation options and what they involve
If you would like to connect with your practitioner from the comfort of your home – you can join us for a Video Consultation. After booking your appointment (online, by phone or by emailing us) you will receive a handy confirmation email explaining any important details you may need to know. Then when your appointment is due to begin we will send you an invitation link via email, simply click on it and we will appear.
Private Health Insurance rebates now apply for Telehealth consultations. We advise you to speak with your health fund to see if you are eligible for a rebate.
Free 15 Minute Telehealth Video Consultation
This is your opportunity to meet with and speak to a Physiotherapist to discuss your injury or concern. If you're new to Physiotherapy, or if you're not sure if Physiotherapy can help, this is a great option to have your questions answered by one of our friendly team.
Telehealth Physiotherapy Video Consultation 
Your consult will involve taking a thorough history, performing a movement assessment and then creating a clear management plan. We will ensure that you know what is going on, why it's happening and how we can work together to resolve it. If your management plan involves a personalised exercise rehabilitation program, we will create this for you and send you a link to access it online.
Telehealth Online 1:1 Clinical Exercise Session
If this is an initial consultation, we may need to spend a little longer taking your history, understanding your goals and performing a movement assessment before creating your program.
If this is a follow up consult, after a quick catch up we will be straight into a great exercise session including core, mobility and strength.
Online 2:1 Clinical Exercise Session  OR  Online 3:1 Clinical Exercise Session 
Our Online Clinical Exercise Group Classes are open to any client who has completed in-clinic Clinical Exercise Group Classes. These online sessions give you the opportunity to practice and progress your individual program in an at-home mat-based setting, under the careful supervision and guidance of one of our Physiotherapists. If you cannot find a time that suits you please call or email the clinic so we can work with you to find a suitable option.
If you have any questions about this service, or which option would be best for you, please reach out and our friendly team will be happy to discuss what will work best for you.
Injuries Treated
Whether you are suffering from a new injury or recurring pain, our experts are trained to help.
Low back pain
Neck pain
Headaches and migraine
Running injuries
Patellofemoral joint injury/runner's knee
Gluteal tendinopathy
Achilles tendinopathy
Patellar tendinopathy
Hamstring tendinopathy
Groin pain
Tibialis posterior tendon injury
Plantar fasciitis
Iliotibial band syndrome
ACL injuries
Shin splints
Chronic strains and sprains
Shoulder pain
Hip impingement, labral injuries
Stress fractures
Tennis elbow
Rotator cuff injury
and more!
Our Process to Your Recovery
Our goal is to get you better as quickly as possible. From online appointment bookings, to streamlined home exercise programs, we've crafted a process that get's you back to life pain free as quickly as possible.
Call or Book Online 24/7
For your convenience we offer 24/7 online appointment bookings. If you would like to ask us a question or prefer to book over the phone, please feel free to send us an email or call us.