Rosie Moore
Physiotherapist and Clinical Pilates Practitioner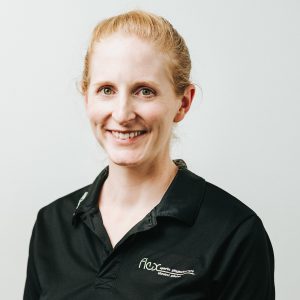 Rosie Moore
Physiotherapist and Clinical Pilates Practitioner (Currently on Parental Leave)
Cyclist, nature lover, overuse-type injury & lower limb expert.
Physiotherapy begins with problem solving and ends with seeing clients achieve their goals. That's what I love about it – moving from pain into freedom and motion. I particularly enjoy working with overuse-type injuries such as tendinopathies and lower limb conditions.
Growing up as an injury prone athlete, I spent a lot of time in the company of excellent Physios and knew that this is what I wanted to do. I have a love of learning, which has driven me to complete my Masters Degree in Sports Physiotherapy.
A lot of my experience is with athletes, including gymnastics, basketball as well as university rugby and football teams in Scotland. My own sporting background is in tennis and athletics, and these days I'm often found cycling and hiking in the great outdoors. I do a lot of road, tour and mountain biking including cycling adventures across regional Australia and overseas.
I established our Bike Fit Cycling Assessment service to help you manage cycling injuries and improve performance in the saddle.
Since becoming a mother I have an enhanced understanding of the need for wellness in the body as a whole, plus the unique physical challenges that can present after giving birth.
What I bring to every client consultation is a deep level of understanding of many kinds of injuries with empathy for how frustrating it is when your body doesn't do what it always has. That's one reason I'm a big fan of Clinical Pilates. When I teach Pilates, I combine strength and conditioning principles with core stability to target underlying issues and help you avoid re-injury.
Qualifications, Courses and Seminars
Masters of Sports Physiotherapy
Graduate Certificate in Sports Physiotherapy
Bachelor of Physiotherapy (Hons)
Australian Physiotherapy Association (Musculoskeletal and Sports National Groups)
Australian Physiotherapy Association Professional Development Courses
Sports Level 1 and 2
Dry Needling Certification
Hip Differential Diagnosis and Management
Mastering Lower Limb Tendinopathy
Science of Cycling
Muscle Injury Management
Cervicogenic Headache Differential Diagnosis and Management
Mobilisation of the Nervous System
Mulligan's Level 1
The Everyday Shoulder
Gluteal Tendinopathy Management
Call or Book Online 24/7
For your convenience we offer 24/7 online appointment bookings. If you would like to ask us a question or prefer to book over the phone, please feel free to send us an email or call us.