Bike Fit Cycling Assessment in Melbourne's City Centre.
Step up your performance with a bike fit assessment with our dedicated cycling Physio.
Optimum comfort, maximum performance
Riding in your optimum position is essential to maximising your capacity and enjoying your cycling.
Cycling injuries, weaknesses and poor performance can be overcome with a biomechanical Bike Fit assessment here in our Melbourne city centre clinic. When you're in the bike position that's right for your body, you're ready to work on your technique and ride pain-free.
A Bike Fit assessment and coaching with our cycling physio, Rosie Moore, empowers you to understand what's not working, what is and how to make powerful performance changes. Rosie is an experienced road and mountain bike rider and a Physiotherapist with Bike Fit, cycling rehabilitation and Science of Cycling qualifications.
How our Bike Fit assessments work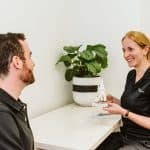 Initial Assessment
Bring in your bike and meet with our cycling Physio, Rosie, to discuss your training, injuries and goals.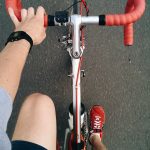 Observation, Analysis and Feedback
Ride in our studio as we video you and watch in real time and slow motion. Biomechanical analysis in which we explain what your ideal cycling form looks like. We help you understand how your technique is affecting your performance and make changes if it's affecting your injury, efficiency or can help you prevent injury.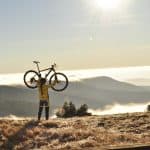 Bike Adjustment and Coaching
Rosie modifies your bike set up to fit your body. Rosie then coaches you on your bike, with modified technique. You can see the difference on the spot using Physio and video feedback so you can ride away with immediate improvements.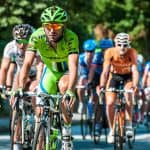 Home Program
Receive your personalised video program to address your biomechanics, improve technique and strengthen weakness. 
Prevent injury and maximise efficiency
A Bike Fit assessment uses biomechanics to:
Ride more efficiently, for longer
Avoid muscle tightness and injury
Keep you comfortable from ride start to finish
Address back, hip and muscle pain
Avoid muscle tightness and injury
Make riding more enjoyable
Our Process to Improving Your Bike Fit and Cycling Technique
Ready to overcome injury, understand your cycling style and correct your technique for the long term? Let's get you started.
Call or Book Online 24/7
For your convenience we offer 24/7 online appointment bookings. If you would like to ask us a question or prefer to book over the phone, please feel free to send us an email or call us.