Faith So
Physiotherapist
Clinical Pilates Practitioner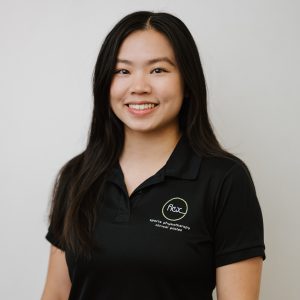 Faith So
Physiotherapist and Clinical Pilates Practitioner.
Runner, swimmer, strength trainer.
I hold a Bachelor of Physiotherapy (Honours) from Monash University and am proficient in both Mandarin and Cantonese. With extensive experience in providing Physiotherapy services across diverse clinical settings, I have catered to individuals of all ages with various conditions. My goal is to support my patients in attaining their best health by leveraging my comprehensive skill set and solid knowledge base.
Passionate about sports, particularly swimming, running, and strength training, I am well-equipped to assist both professional and recreational athletes in their injury rehabilitation journey. Being a competitive swimmer and runner throughout high school, I possess firsthand understanding of the challenges and injuries of sport.
I love treating shoulder, knee and lower back injuries as I have personally experienced them in the past and can relate to the frustration of not being able to do the things I enjoy due to pain. I also find it very fulfilling to assist athletes regain their strength and confidence to return to their sport.
As I went through rehabilitation for my injuries with the support and guidance of a Physiotherapist, I decided that I would also like to one day educate people on how their bodies work and empower people to better help themselves.
I remain committed to evidence-based treatment approaches and consistently engage in professional development activities to stay abreast of the latest advancements in Physiotherapy research. I firmly believe in fostering effective communication between Physiotherapists and patients, and I place great emphasis on providing comprehensive education to my patients.
When I'm not at work I love going for long runs and walks.I also love trying different recipes and cooking for family and friends. Most importantly, I make sure to cuddle my two cats Ollie and Toby as much as they'll let me.
Qualifications, Courses and Seminars
Bachelor of Physiotherapy (Hons)
Clinical Mat and Reformer Pilates Certification (UP) : APA accredited
Dry Needling Certification
Head Physiotherapist, Beaumaris Soccer Club
Call or Book Online 24/7
For your convenience we offer 24/7 online appointment bookings. If you would like to ask us a question or prefer to book over the phone, please feel free to send us an email or call us.