Naomi Fyffe
Physiotherapist, Clinical Pilates Practitioner and Founder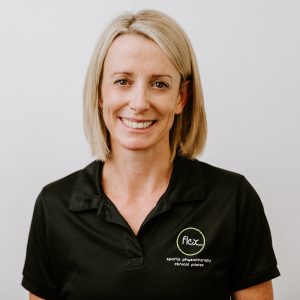 Naomi Fyffe
Physiotherapist, Clinical Pilates Practitioner and Founder.
Marathon runner, Yoga & Pilates addict, Flex owner.
Being a Physio combines everything I love – health, exercise and helping people. Improving your pain, getting you moving again, and helping you feel confident and understand your injury really matters to me.
As a teenager, I was a competitive runner and developed a few injuries through training errors. After seeing a Physio, I knew that was the career for me. After graduation, I worked for several years in Australia and the UK, and I later founded Flex Physio in 2008. My goal was to provide comprehensive Physio care focused on manual therapy and exercise, integrating Physiotherapy knowledge with Clinical Pilates to deliver excellent, evidence-based treatment.
It's an incredible privilege when clients entrust their health and wellbeing to us. I enjoy getting to know each client and love working with them as they move through the different stages of their lives.
I love treating running injuries because I really enjoy helping runners return to doing what they love. As a runner, I know just how amazing it is to run without pain or limitation, and I bring over 30 years of training and racing experience to my Physiotherapy consultations.
I'm also interested in lower back pain, especially in clients who haven't yet found success in overcoming this problem. The strength I have achieved through Pilates has transformed my running and helped me resolve long term back pain. I'm a huge advocate for Pilates and strength training, and use it extensively in my client's rehabilitation to help them overcome pain and remain injury free.
Life outside Flex Physio involves running (of course!), being at the beach with my husband Gordon and dogs Dexter and Benson, and eating out with friends.
Credentials
Bachelor of Physiotherapy
APA – Mentor: Women in Leadership
Spinal Assessment and Treatment
Soft Tissue Injury Treatment and Management
Mobilisation of the Nervous System (Neurodynamics)
Lyn Watson Shoulder Course
PPIVMS and Grade V Techniques, Cervical, Thoracic and Lumbar Regions (UK)
APPI Pilates Certification
Dry Needling Certification (Beginner-Intermediate)
Dry Needling Certification (Advanced)
Shoulder & Hip Pilates Masterclasses
Polestar Reformer Pilates Masterclasses (Intermediate & Advanced)
Runners Level 1: Pelvic Biomechanics (Pilates)
Runners Level 2: Foot Biomechanics (Pilates)
Runners Level 3: Advanced (Pilates)
The Acute Sporting Knee
Hip Pathologies (Nichole Hamilton)
Optimising Running Mechanics – Clinical Considerations APA
Running Injury Management Running Rehab Master Class
Complete Runner: Injury to Performance
Achievements
Dublin Marathon – 2004
Bristol Half Marathon – 2005
Run Melbourne Half Marathon – 2008, 2019
Great Ocean Road Half Marathon – 2013
Run For The Kids – 2009, 2014, 2015, 2016, 2017, 2019, 2022
Sydney City To Surf – 2004, 2009, 2010, 2011, 2012, 2014, 2015, 2016, 2017, 2018, 2019
Rosebud Australia Day Fun Run – 2017
Portsea Twilight – 2018
Queenstown Marathon – 2019
Run the Rock Half Marathon – 2021
Melbourne Half Marathon – 2021

Mornington Half Marathon – 2023
Call or Book Online 24/7
For your convenience we offer 24/7 online appointment bookings. If you would like to ask us a question or prefer to book over the phone, please feel free to send us an email or call us.