Rosie Moore
Physiotherapist
Clinical Pilates Practitioner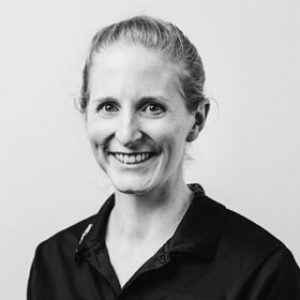 Rosie Moore
Physiotherapist
Clinical Pilates Practitioner
With postgraduate qualifications in Sports Physiotherapy (including Sports Level 1 and 2, and currently in the Sports Master's Program) and over 12 years of experience working in Melbourne, Tasmania and Scotland, Rosie applies a comprehensive approach to injury assessment and rehabilitation for her clients. Rosie has a special interest in hip and shoulder injuries and also loves treating sporting injuries of the knee in addition to complex conditions including chronic tendinopathy and headaches.
Committed to ongoing learning, Rosie has built a wealth of knowledge from professional workshops, including certification in dry needling and biomechanical assessment of running and cycling. She has recently created a Cycle Assessment service involving assessment of bike set-up, cycle program and client biomechanics to help manage cycling injuries, and improve efficiency and performance.
She has extensive experience in the sports field, working with elite and developing athletes across a variety of disciplines, including gymnastics, basketball and University rugby and football teams in Scotland.
Rosie has taught Clinical Pilates for over 10 years, combining strength and conditioning principles with core stability to address underlying issues contributing to her clients' conditions.
Rosie's own sporting background is in athletics and tennis. These days she enjoys running, cycle-touring and hiking in the great outdoors.
Qualifications
Bachelor of Physiotherapy (Hons), University of Melbourne 2008
Graduate Certificate in Sports Physiotherapy, Latrobe University 2017
Memberships
Australian Physiotherapy Association (musculoskeletal and sports national groups)
Professional Development Courses:
Australian Physiotherapy Association (musculoskeletal and sports national groups) Professional Development Courses
Sports Level 1 and 2
Dry Needling certification
Hip Differential Diagnosis and Management
Mastering Lower Limb Tendinopathy
Science of Cycling
Muscle Injury Management
Cervicogenic Headache Differential Diagnosis and Management
Mobilisation of the nervous system
Mulligan's Level 1
The Everyday Shoulder
Gluteal Tendinopathy Management
Call or Book Online 24/7
For your convenience we offer 24/7 online appointment bookings. If you would like to ask us a question or prefer to book over the phone, please feel free to send us an email or call us.