Myotherapy & Remedial Massage Melbourne CBD
Hands on therapeutic muscular therapy that specifically targets the soft tissue of your body, achieving relief of tightness and pain, and improving mobility
At Flex Sports Physiotherapy and Clinical Pilates we help busy professionals, athletes and everyone in between get better, fast. We always utilise the best techniques and technology to ensure a speedy recovery.
Remedial Massage and Myotherapy Melbourne CBD
Myotherapy involves the assessment and treatment of muscular pain and injury which can affect movement and mobility. Myotherapy can be applied in the preventative, corrective and rehabilitative phase of injury to restore and maintain the normal integrity of muscles, tendons, ligaments and fascia of the body. The purpose of Myotherapy treatment is to decrease your muscular tension and pain, and improve your flexibility, with a comprehensive understanding of your body's muscular system.
Remedial Massage is one of the treatment techniques our Myotherapists use and a therapy many of our clients are familiar with – this is the use of soft and deep tissue massage to achieve a therapeutic result for injury or general muscular soreness.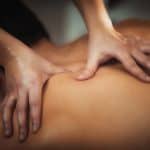 We focus on the Source of your Pain, Not the Symptoms
We focus on the source of the problem and not just the symptoms – Instead of treating your symptoms for temporary pain relief, we focus on identifying the source of the problem and treat that for long lasting results.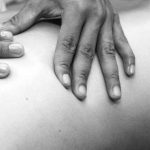 Knowledge is Power
We focus on education, with clear explanation of your injury and why you have it, and work with you to achieve habit and movement pattern modification.
Experience and Expertise
Our practitioners are highly skilled and intuitive with exceptional manual treatment skills. They believe in the therapeutic power of manual therapy and love what they do.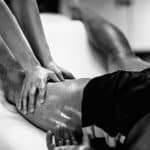 We Focus on a Speedy Recovery
We provide hands on manual therapy techniques to reduce muscular tension and tightness, improve your mobility and well being, and achieve resolution of your symptoms as quickly as possible.
When Should I See A Myotherapist?
Since myotherapy is used to restore integrity to your soft tissues, you might be wondering when myotherapy can be used to help ease your chronic pain. If you have noticed a stiff neck from sitting behind a computer screen all day or you have noticed that back pain is impacting your sleep, now is a great time to see one of our Melbourne myotherapists. Myotherapy is a technique used to ease pain in a healthy and positive manner.
What Should I Expect During My First Myotherapy Session?
At your first myotherapy session, your therapist will start by going over your medical history, history of injuries, and your chief concerns that brought you into the office. The therapist will then perform an examination, assessing your concerns, your range of motion, and other movement tests to better know how to proceed.
Once your therapist has established the cause of your concern, your appointment will proceed with the myotherapy treatments that are appropriate to your needs. The therapist will also make a treatment plan for you, letting you know what is needed and how many sessions are recommended.
Which Conditions Does Myotherapy Treat?
Myotherapy can help any soft tissue injury, dysfunction, or pain. It can be successfully used to treat a wide array of conditions. The most common use of the treatment is to help tight muscles, which are usually the result of stress, disease, or injury. Through the use of this treatment, the trigger points can be alleviated.
There are many other uses of the treatment as well. These include:
Muscle spasms
Back pain
Carpal tunnel
Tendonitis
Tennis elbow
Headaches
Neck pain
Sprains and strains
Anytime there is a pain associated with soft tissue, you should consider receiving myotherapy when the problem does not resolve itself in a timely manner.
What Does Dry Needling Do?
Dry needling is a therapy technique that is primarily used to treat muscular pain and injury. The treatment works by placing thin needles through the skin and into the muscles in question.
The purpose of dry needling is to target the myofascial trigger points that are causing you the most discomfort. The goal is to create a local twitch response (LTR) that flexes the targeted soft tissue areas, releasing built-up tension and pain. Not only will it relieve your trigger points, but it will also help with your range of motion.
Is It Normal To Feel Sore After A Myotherapy Session?
Yes, it is very common to feel sore following a myotherapy session. It depends on the type of treatment that you are receiving. During the massage, for example, the bodywork can cause inflammation, which can last for a couple of days before receding.
If you do feel sore from your appointment, but did not expect to be, remember to keep your next appointment to see how far you have improved. Drinking lots of water is incredibly beneficial to the whole health of your body as well.
Do I Need A Referral To See A Myotherapist?
Not necessarily. If you are coming in with a diagnosis from a health professional, that can help the therapist hone in better on the area of concern. Depending on your insurance as well, a referral might be needed. Regardless, the therapist will conduct an examination to help you work out what area is causing the most trouble.
Our certified Melbourne Myotherapists and Remedial Massage Therapists use a variety of techniques to expedite your recovery process.
After a thorough assessment of your muscular system in the area of your injury or pain, your Myotherapist or Remedial Massage Therapist will create a treatment plan that is unique to your specific needs and goals, may involve several different treatment techniques and will evolve as you improve.
Your Myotherapist or Remedial Massage Therapist will explain what they are doing and why. The techniques we use are all evidence based and our clinicians are qualified to perform them.
Techniques Used
Soft tissue massage
Deep tissue massage
Myofascial release
Trigger point therapy and release
Exercise prescription
Dry tissue needling
Pain education and management
Taping
Stretching
Injuries Treated
Whether you are suffering from a new injury or recurring pain, our experts are trained to help.
Low back pain
Neck pain
Headaches and migraine
TMJ pain and tightness
Shoulder pain
Running injuries
Hip pain
Plantar fasciitis
Iliotibial band syndrome
Shin splints
Calf tightness and pain
Chronic strains and sprains
Postural related pain
and more!
Our Process to a Speedy Recovery
Our goal is to get you better as quickly as possible. From online appointment bookings, to streamlined home exercise programs, we've crafted a process that get's you back to life pain free as quickly as possible.
Call or Book Online 24/7
For your convenience we offer 24/7 online appointment bookings. If you would like to ask us a question or prefer to book over the phone, please feel free to send us an email or call us.