Irwin Kim
Lead Physiotherapist
Strength and Conditioning Coach, Clinical Pilates Practitioner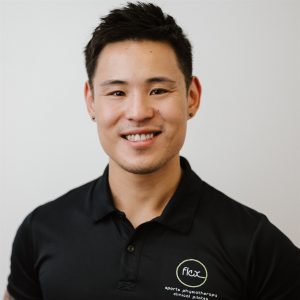 Irwin Kim
Lead Physiotherapist, Strength and Conditioning Coach, Clinical Pilates Practitioner.
Runner, exercise guru and dog lover.
After completing my Bachelor of Science (Physiotherapy) at Curtin University in Western Australia, I made the exciting move to Melbourne to further my career. I have a strong commitment to advancing my Physiotherapy skills, which is why I am currently pursuing my Masters of Musculoskeletal Physiotherapy at La Trobe University.
I am actively involved in the ECHO Trial at the University of Melbourne, a groundbreaking initiative aimed at reducing pain and disability in individuals with hip osteoarthritis. As one of the dedicated Physiotherapists contributing to this research, I remain at the forefront of innovative treatment approaches.
Combining my expertise as both a Physiotherapist and Strength & Conditioning coach, I empower my clients to reach their goals. I have extensive experience working with individuals of all ages and hold a special interest in optimising athletic potential and enhancing biomechanics.
Additionally, I am a qualified Clinical Pilates Instructor and skilled in dry needling. I am registered as a provider with WorkCover, TAC, Medicare Australia, and DVA, ensuring comprehensive care for my patients.
I have actively engaged in Sports Physiotherapy, having worked closely with esteemed organisations such as Camberwell Magpies Cricket Club (VPC), Seaford Football Netball Club (MPNFL), and the University Blues Volleyball Club (AVL). My involvement with these teams has sharpened my expertise in sports-related injuries and rehabilitation.
Beyond my professional endeavours, I lead an active lifestyle. I am an enthusiastic runner and devoted gym-goer. During my free time, I cherish moments with my beloved Dalmatian puppy, Lucy.
Qualifications, Courses and Seminars
Bachelor of Science – Physiotherapy
Graduate Certificate of Musculoskeletal Physiotherapy
Running Rehab: Running Retraining, Exercise and performance (APA)
Level 1 Strength and Conditioning Coach – Australian Strength and Conditioning Association
Pilates Rehab Level 1 – Studio Pilates
Neuromuscular Dry Needling, Level 1
Spinal Level 1 and 2 (APA)
Explain Pain (NOI Group)
Muscle Injury Management – The Hip and Groin Clinic
Advanced Agility Training – The Hip and Groin Clinic
The Sporting Hip and Groin – The Hip and Groin Clinic
Kinetic Link Training Level 1
High Performance Rehabilitation – The Sports MAP Network
Level 1 Shoulder – Lyn Watson
Kinesiology Taping, Level 1
Sports Physiotherapist and Head Sports Performance and Rehab Coach, Camberwell Magpies
Physiotherapist and Strength and Conditioning Coach, Seaford Football Club
Physiotherapist, Melbourne University Blues Volleyball Team
Physiotherapist, Devon Meadows Football Club
Physiotherapist, Tooradin Dalmore Football Club
Call or Book Online 24/7
For your convenience we offer 24/7 online appointment bookings. If you would like to ask us a question or prefer to book over the phone, please feel free to send us an email or call us.