Michael Paulka
Lead Physiotherapist, Strength Service Coordinator and Clinical Pilates Practitioner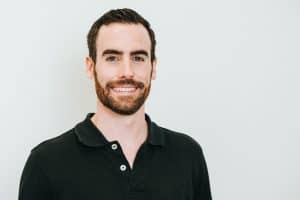 Michael Paulka
Physiotherapist and Clinical Pilates Practitioner.
Swimmer, movie buff, shoulder expert.
I was a competitive swimmer growing up and when I suffered a few shoulder injuries, I became fascinated with the things that my body was doing to compensate and keep me functioning. After seeing a Physiotherapist, being a Physio became the only thing that I wanted to do with my life.
I'm now a Doctor of Physiotherapy and a Clinical Myotherapist. New injuries, post-operative rehab and shoulders get me excited, so I love to help clients who need this expertise. Shoulders are complex and trying to improve their condition can be frustrating, but that's what makes them rewarding to treat.
I know how great it feels to achieve your health and fitness goals, especially when you're coming back from injury. So it's amazing to help my clients do things you didn't think you could, even if it's as simple as walking for 30 minutes. When you get those wins, I feel like I do too!
Continuous learning in my interest areas keeps me on my toes. I genuinely enjoy getting to know my clients and I've learnt so many things from your life experience, travel and adventures. My day – and my work – is always better for it.
I've worked with Sydney swimming clubs, GWS Giants (AFL), Sydney Kings (Basketball) and Rugby Union teams, so I have a broad depth of sports experience that I bring to you at Flex Physio.
Away from work, you can find me in the pool, at CrossFit, on the couch with a movie or devouring an actual physical book.
Qualifications, Courses and Seminars
Doctor of Physiotherapy
Bachelor of Health Science – Clinical Myotherapy
McKenzie Lumbar Spine
Mulligan Upper Quadrant (Neck and Shoulder)
Dry Needling Certification
The Online Running Symposium
Sporting Achievements
Victorian Schools Swim Team Representative backstroke, medley, butterfly
National Age Group – Bronze Medallist 200m backstroke
Cole Classic Swim – Age Category Winner 2015
Victorian Country Swimming Championships
Open water swim enthusiast – Point Lonsdale 2018, Port Fairy 2017, Bondi to Bronte 2013 – 2018
Call or Book Online 24/7
For your convenience we offer 24/7 online appointment bookings. If you would like to ask us a question or prefer to book over the phone, please feel free to send us an email or call us.