Joanne Huynh
Physiotherapist
Clinical Pilates Practitioner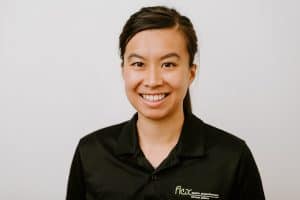 Joanne Huynh
Physiotherapist and Clinical Pilates Practitioner.
Hiker, home-cook, spine master.
A fascination with human biology studies at school, combined with a desire to help people on an individual level is what led me to a career in Physiotherapy.
I specialise in treating spinal and shoulder conditions after being exposed to these pain complaints throughout much of my career. My work as a physio in the NHS during the pandemic presented a high volume of these conditions due to the increased home office environments and reduced physical activity opportunities due to lockdowns. My work in private practice in Australia has allowed me to manage patients with work related injuries, pre / postnatal women and athletes.
I feel very privileged to be a part of the journey that empowers clients who are working towards achieving their health and performance goals through Physiotherapy.
I'm kept busy outside of work heading out on hiking adventures, indoor climbing, or going for a run or cycle. I also enjoy cooking and spending time with my loved ones.
Qualifications, Courses and Seminars
Masters of Musculoskeletal Physiotherapy
Graduate Certificate in Musculoskeletal Physiotherapy
Bachelor of Science (Physiotherapy)
APA Spinal Level 1 and 2
APA Sports Level 1
APPI Pilates Matwork and Reformer Certification Series
APPI – Ante and Postnatal Pilates Course
Lyn Watson Shoulder Course – Level 1
Dean Watson Headache Course – Level 2
Acupuncture, Muscles and Pain Course
Call or Book Online 24/7
For your convenience we offer 24/7 online appointment bookings. If you would like to ask us a question or prefer to book over the phone, please feel free to send us an email or call us.