Monique Mack
Myotherapist | Remedial Massage Therapist | Pilates Instructor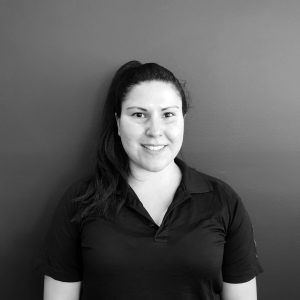 Monique Mack
Myotherapist | Remedial Massage Therapist | Pilates instructor Instructor
Monique has worked for over 6 years in both private practice and team sports environments, including AFL, bodybuilding and Mui Thai, combining her qualifications and experience as a Myotherapist, Remedial Massage Therapist and Pilates instructor to treat acute injuries, chronic pain management and general maintenance.
As a Myotherapist, Monique is highly skilled in the use of massage to reduce tension and pain in the body's muscles, ligaments, tendons and fascia. As a Myotherapist, Monique also utilises a wide range of additional manual therapy techniques including joint mobilisation, muscle energy techniques, myofascial manipulation and release, positional release techniques and assisted PNF stretching. Monique is also passionate about the use of dry needling to assist with local muscular pain and improving function through trigger points.
Clinical Pilates is one of Monique's secret weapons to help her clients return to their activities of daily living and sport. Monique has a special interest in the management and rehabilitation of hypermobility, chronic pain and pelvic dysfunctions. She enjoys treating clients of all ages and athletic ability, especially elite athletes, weekend warriors and kids who are honing their skills on their way to elite level performance.
Outside of work Monique is an enthusiastic sportsperson, having played soccer for 16 years at premier league division as a goalkeeper. Currently when not working, Monique likes to polish her Pilates skills, spend time with her fur child Hugo (the Dachshund) and spend time watching EPL at 2am with her partner.
Qualifications, Courses and Seminars

Advanced Diploma of Myotherapy
Diploma in Remedial Therapy
Certificate IV in Pilates (Mat and Reformer)
Certificate IV in Massage Therapy
Certificate IV in Fitness
Dry Needling Certification
Call or Book Online 24/7
For your convenience we offer 24/7 online appointment bookings. If you would like to ask us a question or prefer to book over the phone, please feel free to send us an email or call us.