Ni'ia Jones
Physiotherapist and Clinical Pilates Practitioner
Currently on Maternity leave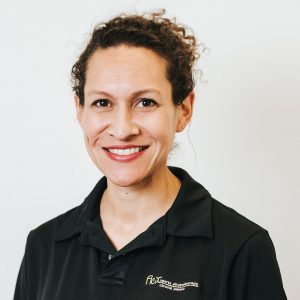 Ni'ia Jones (Maternity Leave)
Physiotherapist and Clinical Pilates Practitioner.
Runner, mama, goal getter.
My fire as a physio comes from you. I build great relationships with my clients and really enjoy seeing how my input can help you physically and mentally. And every client I work with gives me the opportunity to learn which is perfect for someone as knowledge-hungry as me. New evidence is always coming out about injuries/conditions and I like that I have to continually adapt, learn and grow as a Practitioner.
Physio is all about finding the best solution for each client. I provide clarity around what you're going though and create a clear path to getting you better.
I'm a runner, with first-hand experience in being injured. It's no surprise that my focus is on running injuries, mainly in the hip, knee and lower limb tendinopathies. I'm driven to help runners train pain free and reach their next goal.
Chronic low back pain is another specialty of mine. It can be incredibly frustrating and limiting so it's a wonderful thing to help you move more freely and teach you how you can best manage your back pain.
As a mum, I'm also a post-partum rehab expert – in theory and reality. I know how long and difficult the journey back to fitness can be so I enjoy guiding new mums through this stage.
Clinical Pilates combines all three of these areas and is the key ingredient to getting your body at its best for running, back pain management and mum-life.
When I'm not in the clinic, I'm with my son Harrison and my husband Michael, spending time with friends or phoning family in NZ. I love to wind down with a book and I have a stack of them waiting on my bedside table. I always prioritise a run, pilates class, yoga or strength session too.
Credentials
Bachelor of Physiotherapy
Mulligan Manual Therapy, 1 & 2
Dry Needling Certification
New Zealand Manipulation Association – Upper Quadrant Manipulation, Courses 1-4
The Sporting back
Degenerative disc disease and disc replacement in the lumbar spine
Multi-directional Instability of the knee
Patello-femoral Joint Pain
Gait/Running analysis and treadmill training
Headache and Facial pain
Hip preservation surgery
Surgical management of the foot/ankle in Athletes
Optimising Running Mechanics
Running Injury Management
Mastering Lower Limb Tendinopathy
Clinical Pilates master classes in Gluteal and Hip Strength and Thoracic mobility
Running Rehab Master Class
The Running Science Symposium
The Online Running Symposium
Achievements
New Zealand National Track and Field Championships – 3rd in Senior Women's 800m
Victoria State Championships Track and Field 6th in Senior Women's 800m
Victorian Mile Championships – 3rd
Victorian 800m Championships – 3rd
Australian National Track and Field Championships 1500m Finalist
NZ Hawke's Bay Triple Peaks Challenge, 50km event 5th female
Queen of the Peak – Te Mata Peak, NZ, female winner
Middlesex County Championship Women's Cross Country – 3rd (team)
Stonnington Frontrunner Mile – 1st place
2016 Run Melbourne (5km) 1st female, 10th overall
2016 De Castella (5km) 2nd female
2017 Run Melbourne (5km) 2nd female
Call or Book Online 24/7
For your convenience we offer 24/7 online appointment bookings. If you would like to ask us a question or prefer to book over the phone, please feel free to send us an email or call us.