Monique Mack
Myotherapist, Remedial Massage Therapist and Clinical Pilates Practitioner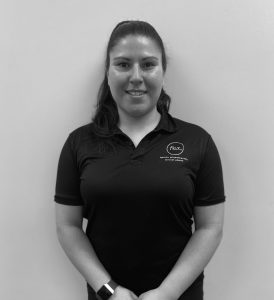 Monique Mack
Myotherapist, Remedial Massage Therapist and Pilates Practitioner.
Secret weapon, dachshund owner, gym lover.
I help your body feel good again with Myotherapy, using massage to ease aches in your muscles, fascia, tendons and ligaments. I'm also qualified in dry needling, which uses trigger points to reduce your pain and restore motion. As a Pilates Practitioner, I can help you strengthen deep muscles to reverse the effects of injury, stress and posture.
Think of me as your secret weapon against pain, stiffness and tension.
I love to help people get back to being their best physical self. I come from a family of helpers and grew up surrounded by strong, caring females who care for others. My mum is a psychologist; my sister works with special needs children; and my aunt is a nurse. I'm following in their footsteps, but on my own path.
When I work with a new client, I begin with understanding why your injury has occurred before rehabilitating that area through treatment and exercise.
Neck and lower back injuries are my special interests because they are diverse, complex and can have the most impact on your life.
My experience covers private practice and team sports, including bodybuilding, AFL and Muay Thai.
Hitting the gym, being with my partner and playing with my fur child, Hugo the dachshund, keep me busy when I'm not at Flex.
Credentials & achievements
Advanced Diploma of Myotherapy
Diploma in Remedial Therapy
Certificate IV in Pilates (Mat and Reformer)
Certificate IV in Massage Therapy
Certificate IV in Fitness
Dry Needling Certification
Call or Book Online 24/7
For your convenience we offer 24/7 online appointment bookings. If you would like to ask us a question or prefer to book over the phone, please feel free to send us an email or call us.